SEO On-the-Go: Mobile Search Trends in 2023
September 5, 2023
2023-09-05 17:53
SEO On-the-Go: Mobile Search Trends in 2023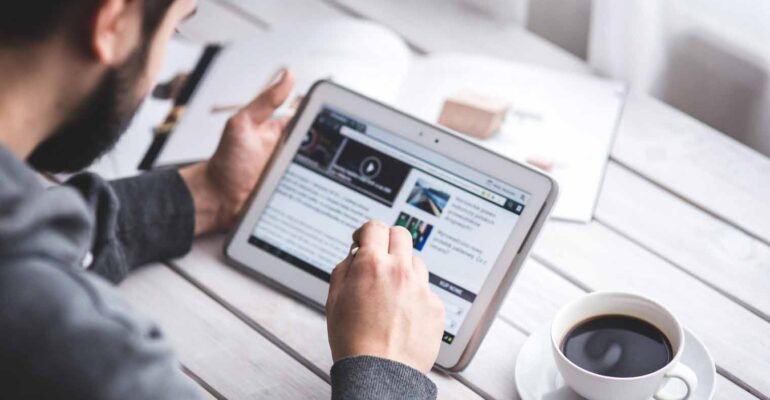 SEO On-the-Go: Mobile Search Trends in 2023
This means that to attract your target audience, you need to reach them where they're searching for you.
Mobile advertising is nothing new, but learning how to do it correctly is where many businesses seem to fail. Understanding your audience and catering to their behavior is only part of the battle.
Lucky for you, there are a lot of mobile SEO tips and tricks you can use to ensure you're optimizing your digital marketing efforts.
Understand How People Search
Before even beginning to think about implementing a mobile advertising campaign, you'll want to work to understand your audience. How do they search online, and what are they searching for?
People search for things differently on mobile devices than they do when using their desktop computers.
You'll want to keep in mind that their mobile searches are prone to Google's autocomplete feature. So, try to search for your product or service and see what Google autocompletes for you. 
Keep these keywords in mind when developing your digital marketing campaign.
Understand Mobile-First Indexing
Mobile-first indexing means that Google uses your mobile version to rank your website. This means that your mobile website is the version that Google will use to rank your website higher or lower.
If this doesn't make you want to focus on ensuring it's mobile-optimized, then we don't know what will!
Take a look at your mobile version's loading speed and use WebSite Auditor to ensure you're crawling your pages with a mobile bot. However, if you aren't working off of a separate mobile version of your average website, we'll need to take a step back.
Create a Mobile Version
It's not enough to simply scale your site down to fit mobile devices. To ensure quality mobile traffic, you'll want to keep UX at the forefront and create a mobile-specific website.
If you're receiving a lot of clicks but not a lot of conversions or extended visits, it might be because your users don't have a great experience on your mobile website.
If you're not even receiving clicks on your paid ad campaigns, it could be because Google is ranking your page low due to poor UX.
Generally, mobile-optimized websites feature:
High-quality user interface
Clickable areas and easy-to-use buttons
Strong call-to-action on every page
Limited forms and input fields
To accomplish this, simply create a mobile-optimized version of your site that caters to smaller touchscreens and the needs of mobile users.
Optimize for Intent
Now that you're thinking about designing your mobile website, it's essential to think about intent.
When your target customer reaches your page on their phone, they're likely going to complete a different action than they would if they were searching on a desktop.
Mobile searchers are usually looking more local and need help with an immediate query.
Cater to these needs! Include a click to call button on your mobile page that easily allows them to call straight from their phone.
Ensure social links and share buttons are easy to see. This will help direct them to your social media accounts or help encourage them to share straight from their phone, and that's a crucial component of mobile SEO that works as part of your greater marketing ecosystem.
Don't Get Too Media Heavy
When designing your mobile site, it's important not to rely too much on media-rich content. While this looks great on a desktop website, it's not built for mobile media.
Reducing the file sizes of existing rich content will help you ensure that any user is able to load your page quickly. This will increase the user's experience while also making sure the highly-shareable content loads fast.
In general, it's best to avoid large video files. Start by compressing your file sizes to see if it affects your quality.
Then, work to select the best video or photo file format for your needs.
Take Advantage of Google Tools
Google knows that mobile presence is hard to measure sometimes. This is why they've created their Mobile Usability Test.
You can find this test on Google Console, and it will tell you if visitors are having trouble viewing or using your mobile site.
It's suggested to take a look at this tool every once in a while just to make sure your Flash is still working, fonts aren't too small, and that all links are working correctly.
For quicker, more straightforward results, pop your URL into the Mobile-Friendly Test function and get a full report.
Don't Forget About Backlinks
Backlinks are still a strong ranking signal, even in 2021.
This year, give mobile meaning to your website and mention your brand name online whenever you can. This means engaging with happy clients on review websites and even answering questions on Quora.
Track all mentions of your name online and participate in the conversations. Then, make sure you are optimizing your mobile content over time by working on building your backlinks.
To help with link-building and other organic marketing efforts, it's best to speak with a marketing company who knows what they're doing. This will help ensure you don't get flagged for keyword stuffing or other common pitfalls.
Make Mobile SEO Work for You
Like any marketing technique, it's important that you understand how to make mobile SEO work for you.
Assess your business and its needs. Are you trying to sell more products online or simply reach more mobile searchers?
Regardless of what you want out of your mobile marketing efforts, it helps to speak with a qualified marketing company in order to gain insight and direction before beginning a mobile marketing campaign.If you're ready to take the leap and get started today, then you can contact us to speak with one of our sherpas (i.e. marketing professionals who care about you and your business).